EARLY LIFE AND EDUCATION
Pastor Adeboye was born in Ifewara Osun State in 1942 on the 2nd of March. He was from a very poor background but was very determined to succeed. He was admitted into Ilesha Grammar school and he discovered his desire to study books especially Mathematics. He managed to get an education at the University of Nigeria Nsukka but he could not complete his education here, he later graduated from the University of Lagos with a Bachelor's degree in Mathematics in 1967.
He also obtained a masters degree from the University of Lagos, where he studied Hydrodynamics. He went further to obtain a Ph.D. in Applied Mathematics from the University of Lagos. He formerly held a position as Professor of Mathematics at the University of Lagos.
MINISTRY
Pastor Adeboye joined the Redeemed Church in 1973 and he started out as an interpreter of English to Yoruba by Pastor Josiah Olufemi Akindayomi.  In 1981, he was appointed the General Overseer of the Church after the previous one passed away the year before. For the first 3 years, he continued to lecture, until he decided to go into full-time preaching. Because of his vision for the Church, he made the Church become very popular with over 40,000 branches in Nigeria and It is spread around hundreds of countries.
He was appointed one of the 50 most powerful and influential people in the world and has received so many honorary awards with degrees and national merit awards for his service to humanity.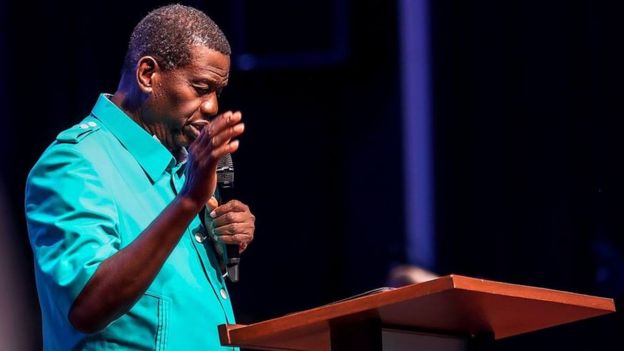 He started the Holy Ghost service in the mid-'90s. It started out as just a night of praise, worship, prayer, and deliverance in Lekki with an attendance of 7million people and 12 million the following year, but as people began to attend the program and get saved, word spread and more people came. This led to the purchase of the current massive campground in Ogun State. What started out as a day program, has grown into a full week program with people from all works of life attending.
As a prolific writer, Pastor Adeboye has also written over 60 books including the Daily Devotional (Open Heavens) which is available in major languages of the world.
MARRIAGE
Pastor Adeboye is married to Foluke Adeboye and they wedded in 1968. Faced with recurrent situations of caesarian section, a solution had to be found after having her first two babies. He tried out other means of a solution including herbs. Pastor Adeboye had not decided to go into full-time ministry as at when he and his wife were married, but he believed in God. He gave his life to Christ after an altar call was made in 1973. Today, they have four children together.
NETWORTH
Pastor Adeboye is currently worth $65 Million.